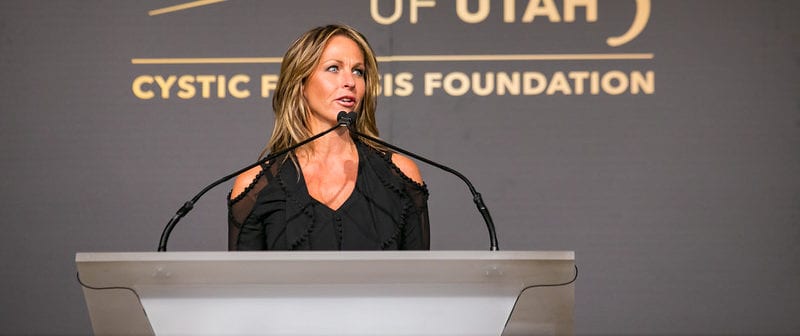 Margarete Cassalina is widely known as a motivational speaker, award-winning author, and national advocate for the Cystic Fibrosis Foundation, but most importantly, she is a mother of two children, Eric and Jena, both born with cystic fibrosis (CF).
In 1991, Margarete was 22 years old, her son, Eric, was diagnosed with CF. Less than two years later, she gave birth to her daughter, Jena, who also received the same diagnosis. While Eric had few CF-related medical complications throughout his childhood, Jena's case was considerably more severe, and on December 4, 2006, at the age of 13, Jena passed away from CF-complications while waiting for a double lung transplant. Despite the pain, hardship, and emotional roller-coaster of raising two young children with an incurable disease, Margarete, and her husband Marc, always found a way to stay strong and committed to their family so that Eric and Jena could have the best quality of life possible.
Margarete speaks straight-from-the-heart about life and CF in her first book, Beyond Breathing, a memoir that was written after Jena 'moved up' to heaven. In her latest offering, See You at Sunset, Margarete introduces readers to a group of memorable, fictional characters who quickly become near-and-dear despite (or maybe because of) their idiosyncrasies and shortcomings. Through it all, Margarete adheres to her passion of bringing awareness and a human-face to cystic fibrosis.
Both Margarete and Marc are passionately involved with the Cystic Fibrosis Foundation. They have served as National Public Advocacy Chairs, National Volunteer Leadership Chairs, National Leadership Council Members, and have sat as Board members in two New York chapters because they are committed to creating awareness and raising funds for scientific research. Margarete is a frequent speaker at CF fundraisers and events across the country. Together, they have dedicated their lives to finding the ultimate cure so that one day CF will stand for "Cure Found."
Click here to download Margarete's bio.
Margarete on YouTube
Click here to visit Margarete's YouTube channel.
More of Margarete's Photos