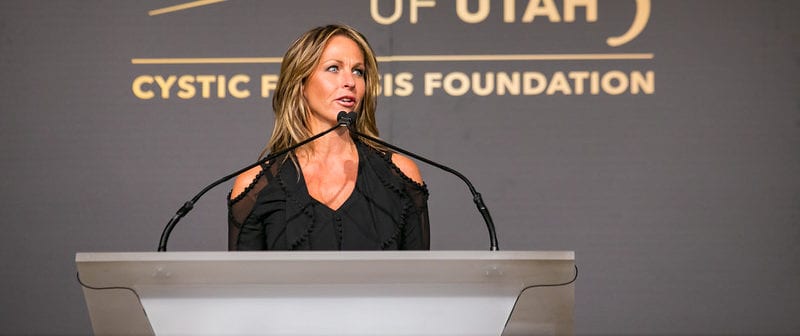 Margarete Cassalina will help you to discover the strength and perseverance needed to confront LIFE. Commit to attending one of her upcoming appearances, or start planning your own event.
From corporate settings to non-profits, houses of worship or support groups, Margarete has a passion for sharing her experiences with you and helping you stay strong and focused on LOVE. To learn more about inviting Margarete to a special event, training session or fundraiser, visit her speaking page.
American Airlines Celebrity Ski for CF in Vail, CO
You're invited to join us for the 28th American Airlines Celebrity Ski Weekend, presented by CocaCola and others, which will be held Feb 28 – March 3, 2013
We Put the Fun in Fundraising
You're invited to join us for the annual American Airlines Celebrity Ski Weekend. You'll enjoy world-class skiing, fabulous food and extraordinary entertainment to benefit the Cystic Fibrosis Foundation. And, you'll be pampered with an all-inclusive tour package tailored for our list of celebrity skiers and guests. Best of all, you'll be helping in the fight against cystic fibrosis.
So far the event has raised over $30 million dollars. Due to recent advances in gene and drug therapy, we are closer than ever to developing a viable treatment—but we need to continue important research and fund-raising to reach our goal of making CF a disease of the past.
Last year's event was a huge success!
Come join us for world-class skiing on the slopes of Vail, meet and compete with celebrities, and enjoy a weekend filled with skiing, entertainment, fine dining and fun.
Last year's event was a tremendous success, raising over $1 million, and this year's event should surpass it.
Margarete Cassalina, author of  "BEYOND BREATHING" is thrilled to be a part of the event, speaking on behalf of CF families, The Cystic Fibrosis Foundation, and CF volunteers.
Lodging: Vail Colorado – The Quintessential Ski Resort
Considered by most to be North America's premier ski destination, Vail offers the most skiable terrain of any mountain, the legendary Back Bowls and the most expansive network of high-speed quad chairlifts anywhere. Nestled at the base of the mountain, Vail Village boasts a rich variety of activities, charming shops and eateries. Vail is world-class in virtually every category.
Vail Cascade Resort & Spa: Vail's Premier 4-Diamond Resort
Accommodations for participants in the American Airlines Celebrity Ski Weekend are at the Vail Cascade Resort & Spa. The hotel's state-of-the-art facilities, luxurious accommodations and attentive staff will make you feel truly pampered during your stay. Conveniently located just steps from the base of Chairlift 20, the hotel offers guests the ultimate ski-in/ski-out experience.
For more information on the resort, please visit their website at:  Vail Cascade Resort & Spa.
Click here for: Information regarding 2013 American Airlines Celebrity Ski
More information regarding:  The Cystic Fibrosis Foundation